Concierge and
Personal Assistant
The Concierge by Privilege Services
Here at PRIVILEGE SERVICES we have chosen to offer the comfort of a private secretarial service capable of managing all aspects of your private life.
A dedicated Private Assistant can help you with administrative matters, project management, filing or writing tasks.
Our Private Assistants operate with utmost discretion at our offices in Belair-Luxembourg or at your home or workplace when necessary.
To take advantage of our secretarial services
Despite the demands of our high-quality service we have decided to offer these services on a flexible basis with simple hourly billing.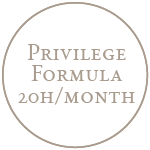 * NO MINIMUM CONTRACT
WHAT YOU RECEIVE WITH THE PRIVILEGE FORMULA :
Access to the services of your Personal Assistant Monday to Friday 9-17h;
Travel of your Private Assistant within and around Luxembourg town centre;
Reporting on tasks and statement of hours worked.
This service of Concierge & Personal Assistant is billed in full, at the beginning of the month.
Services available thanks to your Personal Assistant
Administrative Help and tailor-made secretarial services: management of your post, filing and archiving of documents, office tasks (redirection of post etc), scanning of documents, sending of health reclaims etc.
Management of Personal Projects: Event organization, research of services or products, quotes for work, finding and selling property, recruitment of household staff.
Household management: surveillance visits, meeting of service providers such as electrician, plumber, gardener etc, management of orders, parcels and presence in the house in case of need.
Trip organization: Hotel reservations, restaurant bookings, plan ticket purchase, car rental etc.
Car services: Administrative formalities related to your cars, organization of servicing, MOT (Contrôle technique), tyre changing etc.
Shopping and present buying : Ideas and shopping for birthday presents, shopping etc.
Moving/Relocating assistance : Coordination of your house move, help settling you into your new home, administrative formalities (change of address, insurance etc).